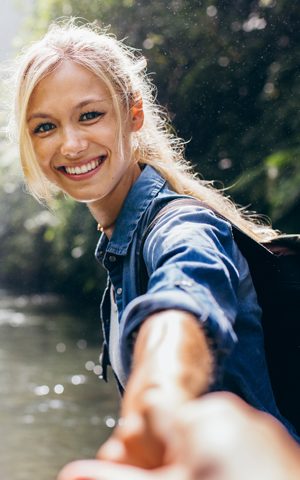 If you can smile with happiness and confidence, your life can improve significantly! If you are displeased with the shape, color, or size of your teeth, dental veneers may be an option for you.
At Cherry Blossom Dentistry, we offer porcelain veneers and Lumineers to transform your smile. These natural-looking appliances are easy to place and will make your smile the best it has ever been!
Benefits of Porcelain Veneers
With porcelain veneers, Dr. Martin can:
Close gaps in your smile
Adjust crooked smiles
Cover stained teeth
Change tooth length
Improve tooth shape
Camouflage cracks and chips
Brighten dull or yellow teeth
No matter what smile imperfection you may have, porcelain veneers or Lumineers can cover them and create an even and beautiful smile.
Dr. Martin creates customized porcelain veneers that are layered for strength and durability. Veneers can instantly whiten, straighten, and strengthen your smile. We offer both traditional porcelain veneers and Lumineers here in our Corbin office.
Traditional Porcelain Veneers: We will design your porcelain veneers to complement your facial symmetry, skin tone, and personality. Traditional veneers usually require 2-3 visits for completion. You will undergo an exam, preparation, and placement process.
Our porcelain veneers are designed in our state-of-the-art dental lab with modern materials. We will help you redesign your smile to suit your exact specifications!
Lumineers: Lumineers are porcelain veneers that may be placed directly onto natural teeth or existing dental work. These ultra-thin dental appliances will give you a flawless smile with less preparation. Lumineers are a painless and permanent cosmetic solution to chips, cracks, gaps, or stains.
Taking a Conservative Approach
Dr. Martin does everything she can to preserve the health of your smile. Dental veneers often require a little more space to fit in with your smile, so the process involves removing some of the natural enamel.
In some cases, Dr. Martin is able to avoid this preparation process altogether! Whenever she can bond your veneers directly to the teeth, she will. That makes your dental work reversible and totally harmless.
We hope to meet you soon at our Corbin, Kentucky, office. We believe in treating all of our patients like our own family members. You can expect a comforting and compassionate atmosphere here.
We make smiles bloom at Cherry Blossom Dentistry! Contact our office today.